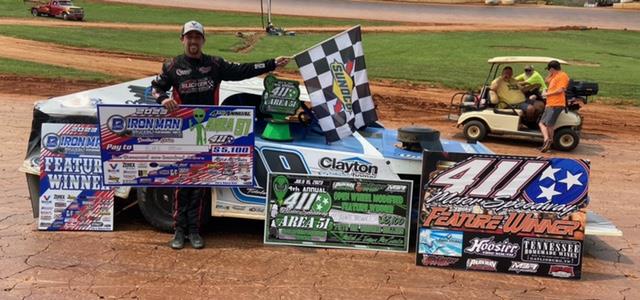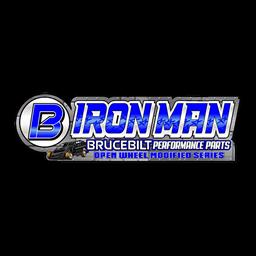 7/16/2023
Iron-Man Modified Series
---
Blake Brown Victorious in Brucebilt Performance Parts Iron-Man Modified Series 4th Annual Area 51 at 411 Motor Speedway
SEYMOUR, TENNESSEE (July 16, 2023)– After being delayed one day by inclement weather, the Brucebilt Performance Parts Iron-Man Open Wheel Modified Southern Series would return to action on Sunday at 411 Motor Speedway in Seymour, TN for the track's 4th Annual Area 51 event and Blake Brown of Corbin, KY would lead all fifty-one laps on the way to his biggest career payday as he would pick up the $5,100 first-place prize money.
The win by the 24-year-old Brown, a former series champion and second-generation racer, would be his eleventh career Brucebilt Performance Parts Iron-Man Open Wheel Modified Series victory and first of the 2023 season and would come behind the wheel of an Elite Chassis powered by a Vic Hill Race Engine with sponsorship from Norman Freight Brokers, Kentucky Farm Bureau-Blake Brown Agent, CoonDog Academy, Kentucky Clutch, Clayton Homes of Williamsburg, Icehouse Bar and Grill, Jerovitz Motorsports Shocks, and Don Franklin Ford.
The initial start would be called back for a tangle and debris in turn one and on the second attempted start, Blake Brown would take the race lead, followed by Cole Falloway, Adam Stricker, while Josh Harris and Bryan Barber would battle for the fourth position. The front five runners would remain the same as Brown would catch the rear of the field and begin to lap slower traffic and would be in heavy traffic when the caution waved on lap fourteen for Tyler James, who had made contact with the outside retaining wall and would be finished for the event. The restart would see Brown stay out in front, with Falloway giving chase, while Harris would take third from Stricker, while Barber would maintain fifth. Brown would continue to motor away and build an almost two second lead as he would begin to work slower traffic on lap twenty-two. Brown would work traffic masterfully and maintain the advantage over Falloway, while Stricker would challenge Harris for third, and Brandon Kinzer would challenge Barber for fifth. Debris on the track in turn one would draw the caution again on lap forty and Brown would again control the field on the restart, with Falloway, Harris, Stricker, and Barber giving chase. The front five would remain the same as the final caution waved on lap forty-eight when Robbie Branham rolled to a stop on the frontchute. The final restart would see the front five remain the same, with Brown taking the checkered flag first, followed by Falloway, Harris, Stricker, and Barber. The remainder of the top ten finishers would be Kinzer, Charlie Mefford, Jacob Hall, Peyton Harlow, and Jimmy Lennex.
The next event for the Brucebilt Performance Parts Iron-Man Open Wheel Modified Southern Series will be at Ponderosa Speedway in Junction City, KY on Friday August 4, paying $1,500 to win and $150 to start.
For more information about the Brucebilt Performance Iron-Man Modified Series, please contact Chris Tilley at (828) 361-5981 or visit the tour's webpage at www.IMOPENWHEEL.net or visit the tour page Iron-Man Racing Series on Facebook and Iron-Man Series (@CTPROMOTE) on Twitter.
The Brucebilt Performance Parts Iron-Man Open Wheel Modified Series would like to thank the following sponsors and marketing partners for their support of the 2023 racing season: Valvoline, Zerex by Valvoline, Brucebilt Performance Parts, Hoosier Racing Tire, E-Z-GO, Sunoco Race Fuels, Bazell Race Fuels, SFP Performance Systems, MyRacePass, Impact Race Gear, XS Power Batteries, Vic Hill Racing Engines, Racecar Engineering, American Racer Tires, Keltner Contracting, Todd Steel Buildings, TW Taylor Trucking, Earnhardt Technologies Group, Weichert Realtors-Ford Brothers (Judith Dyehouse-Agent), Swafford Signs, KY Clutch, DIRTcar Racing, Brown Haven Homes, Knowles Race Parts and Bodies, Coosa Heating and Cooling, Stakt Products, KND Safety, Chattanooga Valley Auto Parts, PopBit, Denby's J&J Construction, Jim and Nancy Viox, Advanced Transportation, Lowe's Tows, Reno's Roadhouse, and Racetrack Safety Initiative.
About Brucebilt Performance Parts
Brucebilt Performance is a one-stop shop for everything dirt racing located in Knoxville, Tennessee. Brucebilt Performance carries a vast array of parts, while also operating a full-scale fabrication and repair shop and their parts menu includes an assortment of new chassis, old chassis, along with new parts of all kinds for your racing vehicle. For more information about Brucebilt Performance, visit www.brucebilt.com.
Official Summary of Results
Feature Results for the Brucebilt Performance Parts Iron-Man Open Wheel Modified Southern Series 4th Annual Area 51 at 411 Motor Speedway in Seymour, TN on Sunday July 16, 2023
Blake Brown-Corbin, Ky.
Cole Falloway-Owensboro, Ky.
Josh Harris-Utica, Ky.
Adam Stricker-Batavia, Ohio
Bryan Barber-Buffalo, Ky.
Brandon Kinzer-Freeport, Fla.
Charlie Mefford-Belton, Ky.
Jacob Hall-Wayland, Ky.
Peyton Harlow-Glasgow, Ky.
Jimmy Lennex-Maysville, Ky.
Ben Harmon-Brooks, Ky.
Jody Puckett-Melvin, Ky.
Jamie Mosley-London, Ky.
Amos Bunch-Wartburg, Tenn.
Cole Hilton-Concord, N.C.
Brian Wilburn-Minford, Ohio
Reece Ogle-Sevierville, Tenn.
Wayne James-Newport, Tenn.
Adam Ogle-Gatlinburg, Tenn.
Robbie Branham-Salyersville, Ky.
Chris Wilson-Crossville, Tenn.
Jesse Rupe-Sophia, W.V.
Taylor Cook-Stanley, N.C.
Tyler James-White Pine, Tenn.
Time of Race: 31 minutes, 48 seconds
Margin of Victory: 1.558 seconds
Yellow Flags: Four (Lap 1, 14, 40, 48)
Red Flags: None
Lap Leaders: Blake Brown 1-51
Entries: 25
E-Z-GO Time Trials Top Qualifier: Blake Brown 16.787 seconds
Brucebilt Performance Parts Hard Charger Award ($50 Product Certificate): Cole Hilton (started 21st-finished 15th-advanced 6 positions)
Brucebilt Performance Parts Hard Luck Award ($20 Product Certificate/T-Shirt): Tyler James
Provisional Starters: None
Todd Steel Buildings Heat One Finish (8 laps/all transfer): Blake Brown, Bryan Barber, Chris Wilson, Taylor Cook, Peyton Harlow, Wayne James, Adam Ogle, Robbie Branham (DNS-Brandon Hutchinson)
SFP Performance Systems Heat Two Finish (8 laps/all transfer): Cole Falloway, Josh Harris, Jacob Hall, Ben Harmon, Jamie Mosley, Brian Wilburn, Reece Ogle, Jesse Rupe
T.W. Taylor Trucking Heat Three Finish (8 laps/all transfer): Adam Stricker, Brandon Kinzer, Charlie Mefford, Jody Puckett, Jimmy Lennex, Amos Bunch, Cole Hilton, Tyler James
---
Submitted By: Ben Shelton
Back to News